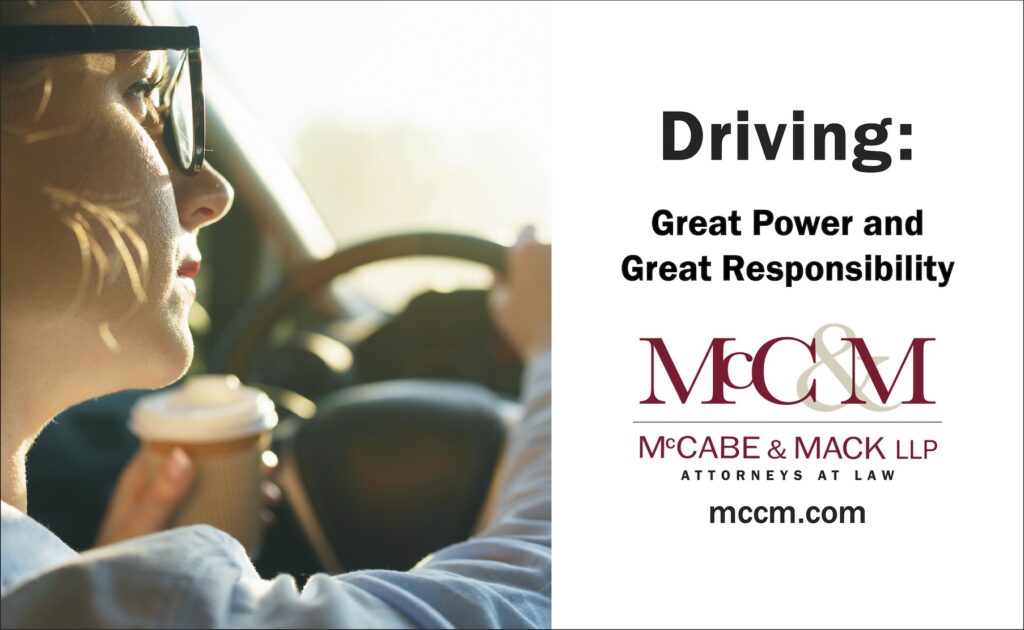 From the very first time we get behind the wheel to drive, it is abundantly clear that operating a motor vehicle is – and will remain – one of the most empowering experiences of our lives.
As has been said, though – with great power comes great responsibility.
At McCabe and Mack LLP, we work with clients every day who come to us with situations related to violations of Vehicle and Traffic Law. Although most of us will only have to endure a road test once in our lives, it is important that we try to stay 'fresh' on our knowledge of road rules. Imagine if we approached driving with the same vigilance that we did when our road test examiner was in the front passenger seat making copious notes as she/he/they scrutinized our skills. No doubt there would be fewer tickets and accidents.
Here are some reminders as you hit the road:
Traffic citations are issued for a wide range of situations – but always come with consequences. Remember that you can avoid getting a ticket simply by driving more mindfully and carefully. Don't speed or text while you are driving. Give yourself ample time to slow and stop for a red light or stop sign. Stay focused. Use your turn signal. Don't follow the car in front of you too closely – nobody likes a tailgater…and the truth is, it generally doesn't get you to your destination much faster anyway! Remember: if you do engage in driving behaviors that are in opposition to the very clear rules of the road, you can get a citation and end up with points on your license or be the cause of a life-changing accident.
Driving while impaired is NEVER a good idea, as Partner Matthew V. Mirabile explains in this article. A DWI can lead to felony charges and jail time. More importantly, you could put yourself or someone else in very serious danger or risk death as a result of your reckless behavior. It is ALWAYS worth designating a driver who pledges to fully abstain from using substances.
Even when seemingly minor, accidents can lead to substantial personal injury lawsuits. At the time of a collision, even if all parties involved appear to be unscathed, if it was your negligence or driving that caused the accident and you plead guilty to that, you can be sued at a later date. Your auto insurance policy may cover compensatory damages (which include injury-related losses and suffering) but may deny coverage for punitive damages. One accident can lead to financial ruin.
The bottom line is this: whether your offense is a minor traffic infraction or serious violation of the law, or if you were injured in an accident, you will want the expertise of an experienced attorney.
Every action you take – and every word you speak – following a citation or accident can bring about unintentional ramifications. Our traffic and criminal lawyers at McCabe and Mack LLP can help ensure the best possible outcomes.
Reach out for a free consultation by calling 845.486.6800 or learn more at https://mccm.com/criminal-traffic-law/.