Hon. George D. Marlow
OF COUNSEL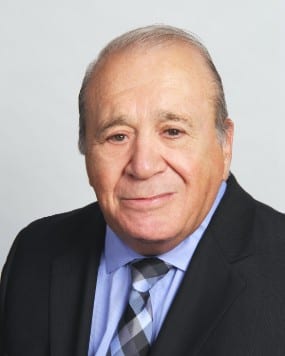 "I'VE MEDIATED AND ARBITRATED MANY CASES TO SETTLEMENT. LITIGATING A COMMERCIAL CASE IN COURT TAKES TWO TO FOUR YEARS ON AVERAGE, WHERE ARBITRATION CAN TAKE AS LITTLE AS THREE TO FOUR MONTHS AND THE DECISION CANNOT BE REVERSED. MEDIATION IS NOT BINDING; IF MEDIATION FAILS, THE ISSUE CAN BE ARBITRATED PRIVATELY OR LITIGATED."
---
MEDIATION & ARBITRATION
George D. Marlow, retired New York State Appellate Division (First Dept.) Justice, also served as the Statewide Judicial Director of Ethics Education and Counsel. In this role, Justice Marlow conducted ethics training and ethics counseling, and oversaw ethics opinion writing for all 3,600 judges and non-judicial employees of the Unified Court System, including town and village justices. Since retiring in 2009, he continued to serve pro bono as Chair and Co-Chair of the NYS Advisory Committee on Judicial Ethics. He currently serves as Counsel to McCabe & Mack LLP primarily focusing on Arbitration and Mediation. He was accepted to the American Arbitration Association's Roster of Neutrals in 2010.
Previously, Justice Marlow had served as an Associate Justice of the Appellate Division from 2001–2008, after his 1999 election to the Supreme Court in the Ninth Judicial District. Justice Marlow was elected earlier as a trial judge in Town, Family, County, and Supreme Courts for 21 of his 52 years in the legal profession. He was a prosecuting attorney arguing appeals and handling trials in Queens and Dutchess counties after law school, and he spent eight years in private practice in Poughkeepsie.
In 2007, he was named Chair of the NYS Advisory Committee on Judicial Ethics. He was co-chair before that and he has been a member since the Committee's creation in 1987.
In 2003, he was named to the (Feerick) Commission to Promote Public Confidence in Judicial Elections to propose reforms in the process of electing judges.
In 2000, Justice Marlow was appointed to the (Birnbaum) Commission on Fiduciary Appointments to evaluate New York's rules governing the sensitive subject of judicial appointments of fiduciaries, in particular their ethical and practical implications.
In 1995, Justice Marlow was appointed co-chair of the NYS Capital Case Judicial Resource Committee, in charge of training judges to preside in capital murder trials.
In 1991, Justice Marlow was elected President of the Dutchess County Bar Association while a Family Court Judge.
In 1998, he presided over one of New York State's first two death penalty trials (People v. McIntosh) under New York's 1995 death penalty statutes. The jury rendered a guilty verdict and Judge Marlow imposed a sentence of 65 years to life.
In 1997, he became the first judge in New York State history to earn a Masters of Judicial Studies from the National Judicial College at the University of Nevada in Reno.
Justice Marlow frequently teaches at judicial and legal seminars on judicial ethics, professional ethics, appeals, capital case litigation, domestic violence, and gender bias. He has authored and co-authored several legal writings and scores of published judicial opinions.
Justice Marlow and his wife Marcy Marlow married in 1964 and raised their family in the Town of Poughkeepsie. They are proud to have five married children – two attorney, two doctors, and a teacher – and 16 beautiful grandchildren.
MEMBERSHIPS/AFFILIATIONS
Professional:
Dutchess County Bar Association
Mid-Hudson Women's Bar Association
New York State Bar Association
Education:
St. Lawrence University, B.A., 1963
St. John's University School of Law, J.D., 1966
University of Nevada: National Judicial College, Masters of Judicial Studies, 1997
Bar and Court Admissions:
New York, 1967
U.S. Court of Appeals for the Second Circuit, 1968
U.S. Supreme Court, 1980
YOUR MEDIATION & ARBITRATION TEAM
---
We're here to help.
The best way to get guidance on your specific legal issue is to contact a lawyer. To schedule a meeting with an attorney, please call or complete the intake form below.
---