Hon. Ralph A. Beisner
IN MEMORIAM
(1942-2020)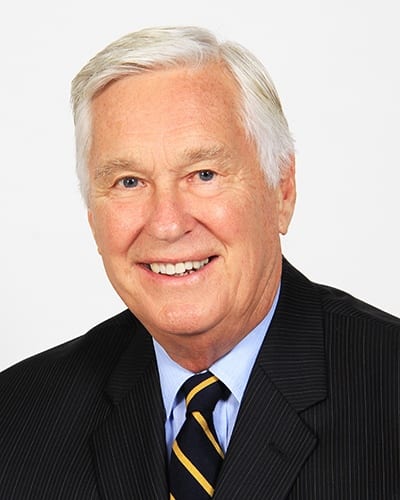 "HE WAS A CREDIT TO THE BAR, THE BENCH, AND HIS FAMILY. HE WAS A GOOD FRIEND AND WILL BE MISSED."
McCabe & Mack LLP Partners
On Dec 14, 2020, Ralph A. Beisner left this world and was welcomed into the arms of his heavenly Father. Born on November 26, 1942, he was the son of German immigrants, John and Anne Beisner who predeceased him, as well as his brother John and his daughter, Allisyn, who he endearingly called, "My pal Al."
Ralph was a lawyer, a State Supreme Court Justice, author, and pastor of Father's Paradigm. Most importantly to him, he was a husband, father, grandfather, uncle, dear friend to many and a child of God. To a family that adored him, he was our rock.
He was married to the love of his life, Inger, for 58 years. Which was a love story for the entire family to cherish and behold. Together they had three daughters: Lynda Beisner (Barry DeCarlo), Kristine Beisner Palmer and Allisyn Beisner-Martinez (Nicola Martinez.) His grandchildren include: Brendynn Kelly (Maria Burdick-Natalie & Dominic), Andrew Kelly (Paola Rodrigues), Garrett Palmer, Quinn Palmer, Eden Palmer, and Zachary Mowers (Jessica West).
Ralph is also survived by his sister-in-law, Sharon Beisner; niece, Jil; nephew, Michael; and their families.
His diagnosis gave us the opportunity to realize the precious gift that life is and drew us even closer as a family. The three years of fighting will not be what is remembered most. It will be the years of love, memories, stories, lessons, sarcasm, wit and guidance he gave us all. We know that he is now dancing on the streets that are golden.
Burial is at the convenience of the family. A memorial service in the spring will be announced at a later date.
If you would like to make a donation in his honor, either of the following would be greatly appreciated: Light to the Nations Fellowship, PO Box 607505, Orlando, FL 32860 (www.lighttothenationsfellowship.org), or, Kaleo International, c/o Joshua Muse, PO Box 971511, El Paso, TX 79910 (www.kaleointernational.org).
Arrangements are under the direction of Sweet's Funeral Home, Hyde Park. To send an online condolence from the safety of your home, please visit
www.sweetsfuneralhome.com
.
As published in the Poughkeepsie Journal.
Biography
Judge Beisner joined McCabe & Mack LLP as Counsel in 2009. Prior to joining McCabe & Mack, he was a New York State Supreme Court Justice, Ninth Judicial District from 1984 to 2002. He presided in civil and criminal terms in all the counties of the Ninth Judicial District plus Bronx, Queens and New York Counties. He has been associated with National Arbitration and Mediation (NAM) handling mediation and arbitrations since 2002. Judge Beisner was formerly designated a Judicial Hearing Officer for the NYS Unified Court System.
Before going on the bench, Judge Beisner was in private practice from 1979 to 1983. He also held position of counsel to the Republican Leader of the New York State Assembly. From 1973 to 1979 he was Assistant New York State Attorney General in the Poughkeepsie Office of Civil Litigation. From 1969 to 1973, he was an Assistant District Attorney in Queens County, New York.
Bar Admissions:
New York, 1968
U.S. District Court Eastern District of New York, 1971
U.S. District Court Southern District of New York, 1971
U.S. Court of Appeals 2nd Circuit, 1971
Education:
Brooklyn Law School, Brooklyn, New York
   J.D., Doctor of Jurisprudence - 1968
Wagner College, Staten Island, New York
   B.A., Bachelor of Arts - 1964
   Major: History