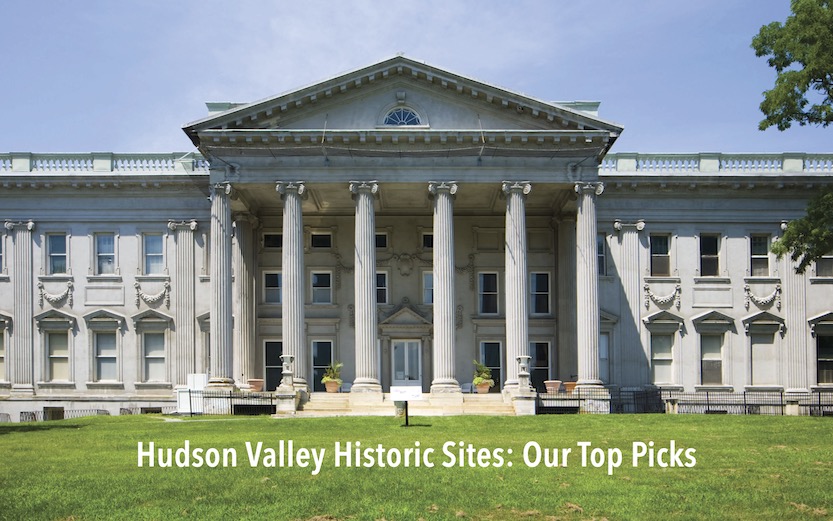 Our entire team at McCabe and Mack LLP unequivocally appreciates the rich history of our region – after all, we are part of it!
For over 125 years now, we have been providing legal services to Hudson Valley individuals, businesses, and organizations. Along the way, we have been actively involved in community-based initiatives which help protect and preserve the character of our area. From supporting arts institutions like The Bardavon Opera House to land trusts like Winnakee, we have always tried to help carry the unique and special parts of our collective past into the future.
While it is easy to get swept up in modern-day life, a visit to a local estate is all it takes to be reminded that we must continue to be stewards of our history. Traversing some of these more significant properties in the Hudson Valley comes with the kind of awe and wonder that inspire us to do our part.
Recently we asked several of our partners at McCabe and Mack LLP to weigh in on the historic sites that they most treasure. Their responses brought us to various corners of the region, and for myriad reasons.
Partner Richard R. DuVall, for example, loves Clermont Historic Site. "It is of course beautiful, situated on the east shore of the Hudson in Germantown, Columbia County. It is also linked to the very earliest colonial establishments – Livingston Manor, which included all the land in that area between the Hudson River and Massachusetts, and some to the west of the Hudson as well. The grounds are easily navigated, the house well-preserved, and the historical presentations very interesting. And the Halloween tour is fun."
We wondered what question Rick might ask if he had a chance to talk to a person who once owned or lived on that property, to which he replied: "I would ask: 'I understand that your family controls this vast swath of farm and woodland, but you didn't actually farm it. I have heard that you had tenant farmers all through the area from whom you derived rent in the form of money or produce and such. How long do you think this would have been sustainable?'"
Rick also noted that if he were to take guests to Clermont, he would point out "the history and evolution from what was essentially a feudal or sharecropper relationship to the later breakup of the family's control of the territory, manifesting the independence of the working and farming individuals over the land grant beneficiaries. Also the great views and grounds, although those don't need to be pointed out."
For Partner Scott D. Bergin, Vanderbilt Mansion is a favorite go-to – in large part because of the "beautiful grounds, awesome river views, and magnificent house which is a great representation of the Gilded Age," he explained. "And if I could ask a former property owner about that site, I would inquire about what it was like to be so wealthy and live in such opulence! I also think it would be interesting to know what life was really like back in the late 1800s and early 1900s – what obligations they may have felt to the townspeople to pay it forward, and in what ways they could help the greater population with their wealth."
If he were to bring a friend or family member to the property, Scott says that he would be sure to highlight "the grounds and the beautiful gardens and the magnificent house – especially during the holiday season – and, in addition, the magnificent Hudson River views from various parts of the property."
Partner Daniel C. Stafford's pick takes us further south to Pollepel Island, off the coast of Cornwall. He reflected: "It's home to Bannerman Castle, which served as second home to a wealthy Scottish family, as well as an arms and munitions storage facility in the early 1900s. It caught fire in 1969 and hasn't been used for any purpose since that time. It's a picturesque (and slightly eerie) spot. While I see it every day on my way home, I have yet to actually step foot on the island. I look forward to exploring the ruins with my wife and kids one day."
Not far from Stafford's favorite site is Washington's headquarters in Newburgh, where Partner Lance N. Portman says he would point out the Dutch open style fireplaces to a guest if he were sharing it with someone for the first time. He explained of his choice: "The American Revolution was a significant event in world history and actual events happened right here in our neck of the woods." Portman noted that if he had a chance to ask anyone who had been affiliated with that location any question at all, he would pick Alexander Hamilton. Portman said, "Although he didn't live there, Alexander Hamilton was there and I would love to ask him what actually happened at his duel with Aaron Burr."
Driving north, Richard J. Olson finds solace at Olana State Historic Site, which he noted was the "Home of Frederic Edwin Church, a major figure in the Hudson River School of landscape painters. The 250-acre property has spectacular views of the Hudson River Valley, the Catskill Mountains, and the Taconic Range."
"If I could ask a former property owner any question, I would ask where they purchased their art supplies at that time."
Rich added that in addition to the stunning views, "Olana is ten minutes from Hudson, also occasionally known as Brooklyn North. A weekend in that part of the region can include visits to vintage and antique furniture stores, art galleries, coffee bars, and restaurants."
Indeed, every site offers a full range of experiences. Whether we have walked these estates for the very first time or we are returning with friends and family, opportunities abound to ponder our past and consider ways to protect the stories and sites for future generations.
Learn more about the rich history of our firm, McCabe and Mack LLP, by visiting mccm.com/history.