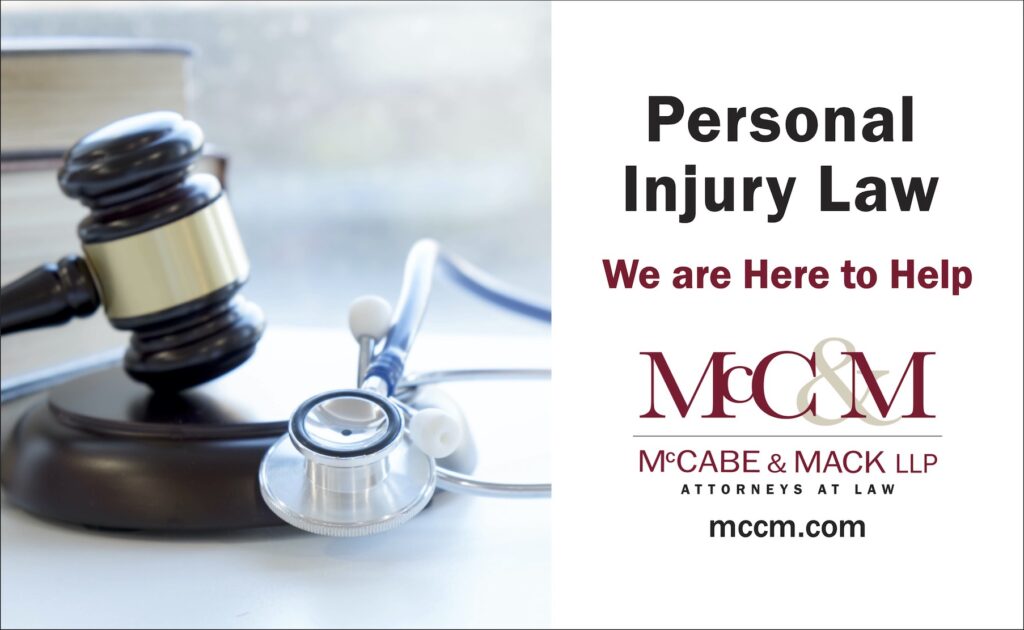 Have you been injured? You may have a case!
At McCabe and Mack LLP, our team has long helped clients navigate injury claims and secure the compensation they deserve.
We realize that many people do not pursue damages because they are not sure if they have a case, or just don't understand the process. Here are some things you should know:
If you are injured due to the negligence or intentional act of another, you deserve to have your expenses and any injury-related lost income (present or future) covered.
We do not charge any legal fees for personal injury suits unless you are awarded compensation. If you are not sure whether you have a case, just reach out; consultations are completely free of charge.
Personal injury cases take a wide range of forms. They can include anything from motor vehicle accidents and slip-and-fall injuries to dog bites and damages caused by defective products. Again, if you think that there is any possibility you might have a case, it is always worth exploring with our team.
Handling your own claim is NEVER a good idea! We have decades of experience and can guide you through the process so that you do not inadvertently harm your case in any way. Without representation, you may find yourself mistakenly signing off on waivers or other forms that result in a lower settlement. A personal injury attorney at McCabe and Mack LLP can manage every step of the process, present everything to the defense attorneys, and ultimately ensure that your payout is optimized.
Do not delay. A statute of limitations can prevent you from filing a claim if a certain number of years has passed. In addition, by moving swiftly on a case, the evidence and facts will be fresh in everyone's minds, and you will be able to more clearly convey the circumstances that make your case worthy of a settlement.
To properly prepare, remember to do the following:
Gather as much information and evidence as possible at or immediately after the time of injury. Take photos, collect contact information for any witnesses, record clear and comprehensive notes, see a physician and follow all recommendations that your doctor makes, retain all medical bills, and pull together any documentation as it relates to injury-related expenses and missed paychecks.
We are here to help. Reach out for a free consultation by calling 845.486.6800 – or use the online contact form at mccm.com.