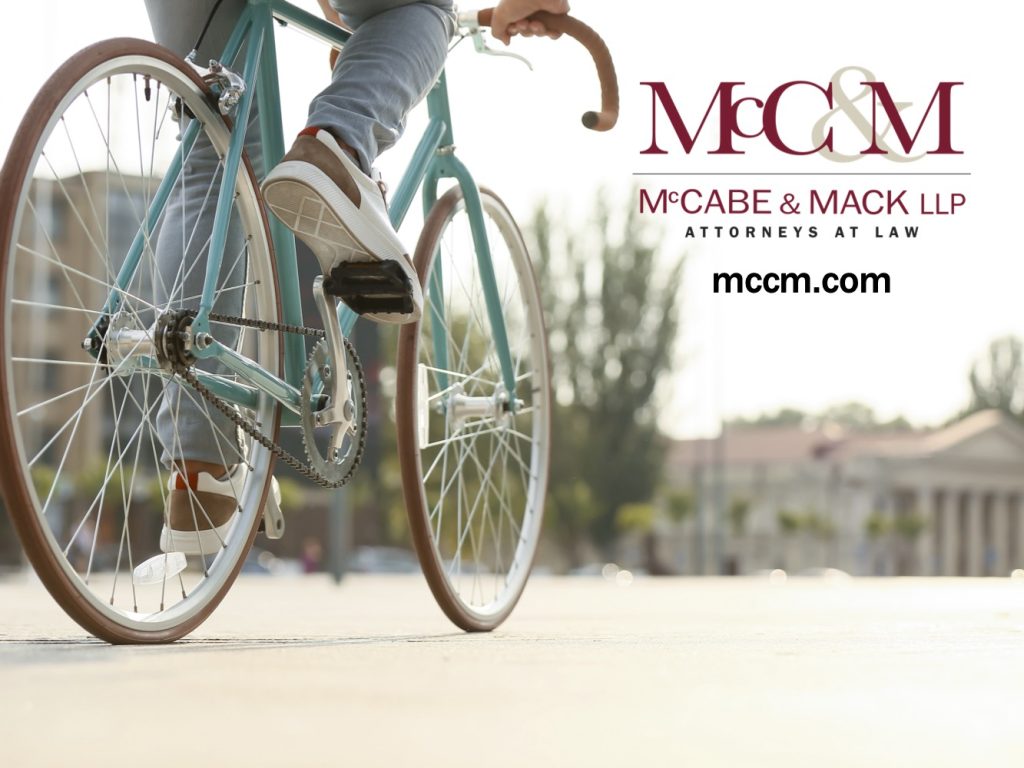 A Public Service Announcement from McCabe and Mack LLP
This time of year is a perfect one to explore our picturesque region. If you are heading out for a drive, please remember that you share the road with bicyclists. Bicyclists are required to ride with traffic so be considerate, they have the right to use the road as much as you do. Here are some tips from our team at McCabe and Mack LLP that can keep those cyclists safe, mile after mile:
Be mindful of bicyclists as you drive, particularly on roads that twist and turn where there might be "blind corners". On sunny days, the shadows from trees can make it extra-difficult to see, and on foggy days, it can be almost impossible. Stay aware.
Give bicyclists enough room, respecting their space on the road. Stay out of the shoulder of the road or any lanes that have been designated for bicycles.
Leave an extra car length between your vehicle and a bike, which will help mitigate the risk of a serious collision should you need to quickly slow down or stop.
Pass only when necessary and be very deliberate about it. Take the time to ensure that there is ample room for you to pass, and when it's time, do so carefully and at a slow speed, always giving the cyclist room.
Always check your side and rearview mirrors before turning. Sometimes you may not even be aware that a cyclist is behind your vehicle or alongside you; a quick check of your surroundings can prevent injuries.
Stay focused. Cyclists may unexpectedly need to move into your lane; you want to be able to respond quickly should someone on a bicycle drift in front of you.
Watch out for young children on bicycles! Stop as needed so that they can safely ride too, particularly in residential neighborhoods.
Use your directional signals, which help alert a cyclist behind or alongside you of your next move.
Do NOT text and drive. If you are traveling at 30 MPH, you are moving at a distance of 45 feet per second, so glancing at your device for even just one second can be extremely dangerous – or even deadly; so much can happen in those 45 feet or more. No call or text is more important than human life.
Once you park, open your door cautiously and slowly. Cyclists can get injured if they happen to be riding by as you open your car doors after you have parked. Take a moment to check your surroundings before you get out of your vehicle.
Keep your eyes on the road, be careful, and enjoy your ride!
If you have any questions, reach out to Scott D. Bergin by calling 845-486-6854 or visit our website: mccm.com.