An Interview with Nicholas Tarkazikis, Associate at McCabe and Mack LLP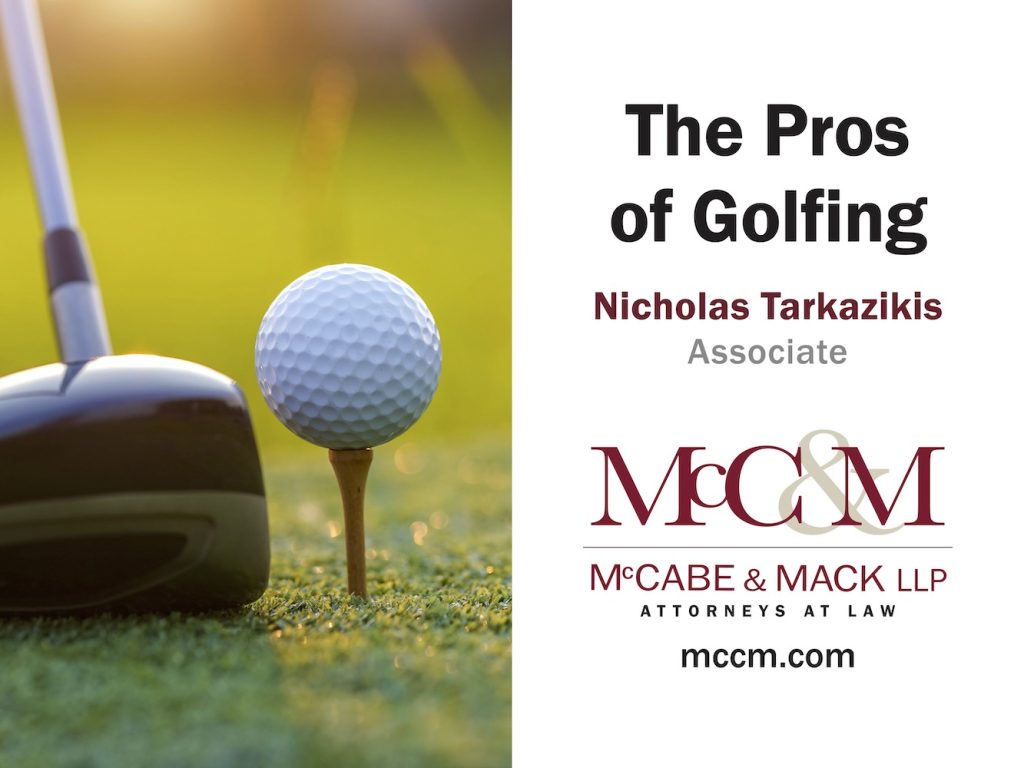 In the Hudson Valley region, recreational opportunities abound. Although there are myriad options, the choice is always an easy one for Nicholas Tarkazikis, Associate at McCabe and Mack LLP: golf! We asked Nick to share more about his love for the game, and here is what we discovered:
Nick, what inspired you to start golfing?
When I started living with my college roommate, he invited me to go golfing one day. I had never golfed before. I borrowed his father's clubs, and we went to play at Vassar golf course. I loved it, and after that first day, we began playing consistently – often 2-3 times a week! That was about 12 or 13 years ago now.
Which pro golfer do you most admire and why?
Dustin Johnson – and I have no specific reason, except to say that I really respect his game.
Of the various qualities needed to be a great attorney, which ones are strengthened the most through golfing?
Patience – without question! Golf can be a VERY frustrating game. It takes a long time and a great deal of practice to develop strength and precision in your swing – and confidence in your ability to compete. The irony is that when I was a high school and college athlete, I never considered golf a "real sport." My perception, however, quickly changed once I hit the links myself! It requires the same kind of persistence, practice, and patience that other sports do, which are the same qualities you need to practice law. I always go out there knowing that there are good days and tough days, but I show up ready to give it my best and persevere through any challenges, just like I do at work.
Your role as an attorney can be very demanding; can you comment on the importance of taking the time for a restorative experience like golf?
Playing sports throughout my childhood always gave me an outlet to relax. When I went to law school, that was gone for some time, and I definitely felt the void. Golf has provided a way for me to enjoy better health – not just from the physical standpoint of getting exercise, but also because I can enjoy hours of friendship, relaxation, and fresh air. (Of course, my wife might disagree on the amount of time I actually need out there to achieve all of that!) I believe we all need to make time in our lives for healthy activities that we enjoy, and I am really glad I discovered golf.
In addition to those personal benefits, how has golf impacted you professionally?
My mind is clearer after a day on the course, so I feel more focused at work, which is an obvious benefit. I also get to enjoy golfing "for" work attending charitable outings on behalf of McCabe and Mack when our firm sponsors events. This is very rewarding and allows me to meet new people and gain a greater understanding of our community.
It has been said that "the best business decisions are made on the golf course". As a lawyer, would you argue or defend that point?
I would defend that point! I have personally witnessed my cousin (who is in finance) close many deals on the course. Being together for several hours at a time in a relaxed environment gives people plenty of time to connect, talk, and decide to do business together!
If you could play on any course in the world, what would it be and why?
Oh, there are so many great courses out there that I'd love to see. Augusta would be great since the Masters take place there – but I have also seen some beautiful courses that overlook the water in Ireland – so one of those would probably be my top choice.
Nicholas Tarkazikis, Associate at McCabe and Mack LLP, specializes in insurance/litigation defense, appellate practice, and civil rights/police liability. Learn more at https://mccm.com/nicholas-tarkazikis/.