J. Joseph McGowan
(Retired)
LOCATION: POUGHKEEPSIE, NEW YORK PHONE: 845-486-6864 FAX: 845-486-7621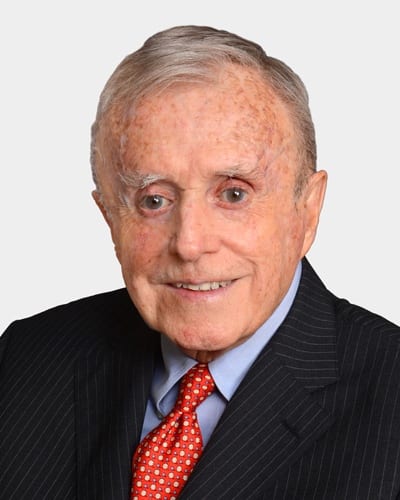 "FOUR DECADES OF EXPERIENCE IN ALL TYPES OF COMMERCIAL REAL ESTATE TRANSACTIONS HAS SHOWN ME THAT SOMETHING UNEXPECTED ALWAYS HAPPENS. THE BEST INSURANCE, IN MY OPINION, IS TO BE THOROUGHLY PREPARED AND HAVE THE RIGHT LEGAL COUNSEL. AT McCABE & MACK LLP, YOU CAN BE SURE YOU'RE A PERSON, NOT JUST A NUMBER ."
---
COMMERCIAL REAL ESTATE
Joe McGowan has been actively involved in all types of commercial real estate transactions for over four decades. Such transactions include purchases, sales, leases and financing. The subject properties include multiple family dwellings, institutional properties and commercial/industrial properties of all types.
SECURED LENDING
Representing a variety of financial institutions and borrowers, Joe has worked on a multitude of secured lending projects, covering not only commercial, industrial and institutional real property, but aircraft, vessels, machinery and other personal property. Numerous financings have been through bonds issued by local Industrial Development Agencies and the Dormitory Authority of the State of New York.
TAX CERTIORARI
Since 1967 Joe has represented municipalities and taxpayers in proceedings with respect to real property tax assessments. He was the proponent of the rule that once a municipality has granted a real property tax exemption, the burden of proof that the property is subject to taxation is on the municipality if it thereafter withdraws that exemption (New York Botanical Garden vs. Assessors of the Town of Washington, 55 N.Y.2d 328).
MEMBERSHIPS/AFFILIATIONS
Professional:
Dutchess County Bar Association (Treasurer, 1981-1984; President 1988-1989) New York State Bar Association (Member, House of Delegates 1984-1985; Member, Real Property Section and Business Law Section)
Civic:
Astor Services for Children and Families (Trustee 1989-2018, Trustee Emeritus 2018-present, Board President 1992-2004)
Prior Boards include:
Mount Saint Mary College (Trustee 1980-1989)
Community Foundation of Dutchess County (Board Member 2000-2011, Secretary 2006-2011)
Mid-Hudson Civic Center (Board President 1984-1985)
Abilities First f/k/a Rehab Programs
City of Poughkeepsie Planning Board
Military Service:

Appellate Counsel (Captain), Office of the Judge Advocate General of the Army, Washington, DC, 1962-1963
Bar Admissions:
New York, 1961
U. S. Court of Military Appeals, 1962
U.S. District Court Southern District of New York, 1966
Education:
Harvard University Law School, Cambridge, Massachusetts
   J.D., Doctor of Jurisprudence - 1961
Georgetown University, Washington, District of Columbia
   B.S., Bachelor of Science cum laude - 1958
Honors and Awards:
Community Foundations of the Hudson Valley, Garden Party Honoree, 2013
Archdiocese of New York, Phelan Meritorious Trustee Award, 2012
Catharine Street Community Center, Martin Luther King Jr. Community Service Award, 2009
Astor Services for Children and Families, Serena Branson Leadership Award, 2004
Dutchess County Bar Association, Gartland Award for Community Service, 2012
Joe and his wife Mary, a retired certified public accountant, make their home in the City of Poughkeepsie. They have two adult daughters, Ann and Sarah. Joe is a squash enthusiast and an old truck buff.
YOUR BANKING & SECURED LENDING TEAM
---
We're here to help.
The best way to get guidance on your specific legal issue is to contact a lawyer. To schedule a meeting with an attorney, please call or complete the intake form below.
---