J. Joseph McGowan
IN MEMORIAM
(1936-2022)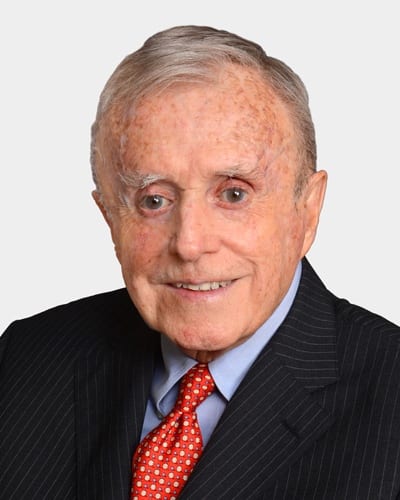 "FOUR DECADES OF EXPERIENCE IN ALL TYPES OF COMMERCIAL REAL ESTATE TRANSACTIONS HAS SHOWN ME THAT SOMETHING UNEXPECTED ALWAYS HAPPENS. THE BEST INSURANCE, IN MY OPINION, IS TO BE THOROUGHLY PREPARED AND HAVE THE RIGHT LEGAL COUNSEL. AT McCABE & MACK LLP, YOU CAN BE SURE YOU'RE A PERSON, NOT JUST A NUMBER ."
James Joseph McGowan was born July 16th, 1936 to Marguerite M. (McGuire) and J. Edward McGowan. An only child, Joe grew up much beloved and happily surrounded by friends and family in Marlboro, New York. Valedictorian of his high school class, Joe headed off to Georgetown University where he was in ROTC and graduated cum laude in 1958 with a degree in Economics and Military Science. Commissioned as a second lieutenant after graduation, Joe then attended Harvard Law School, graduating in 1961. He served as Appellate Counsel (Captain) of the Office of the Judge Advocate General of the United States Army until 1963.
After meeting Mary Goldmann at a St. Patrick's Day dance in 1961, Joe and Mary married in 1964 and settled in the Hudson Valley. Shortly after returning to the area, Joe joined the law firm McCabe and Mack as the firm's first associate. He worked at McCabe and Mack for over 56 years until his retirement in December of 2021. As the firm grew, he focused on transactional law for banks tied to real estate and businesses and was grateful for the work that benefited the growth of the Hudson Valley business community. In addition to his success in the business of the firm, he placed great importance on his role as mentor to the firm's associates and staff.
Joe was an active member of the community. He served as a Trustee of Astor Services for Children and Families from 1989-2018 (Board President 1992-2004) and as Trustee Emertitus from 2018 until his death. He served Mount Saint Mary College (Trustee 1980-1989), Community Foundations of the Hudson Valley (Board Member 2000—2011, Secretary 2006-2011), Mid-Hudson Civic Center (Board President 1984-1985) as well as service to Abilities First and the City of Poughkeepsie Planning Board.
Joe has been the recipient of numerous awards, including the Army Commendation Medal (Meritorious Service, 1963), Garden Party Honoree (Community Foundations of the Hudson Valley, 2013), Phelan Meritorious Trustee Award (Archdiocese of New York, 2012), Martin Luther King Jr. Community Service Award (Catharine Street Community Center, 2009), Serena Branson Leadership Award (Astor Services for Children and Families, 2004), and Gartland Award for Community Service (Dutchess County Bar Association, 2012).
Joe was long term member of the Poughkeepsie Tennis Club where he served as President and could often be found on the tennis and squash courts. An old truck buff and history fan, he frequented antique truck shows and loved reading books on military history. More than anything else, Joe enjoyed time with his family. In addition to his wife, Mary, he is survived by his daughters Ann McGowan and Sarah McGowan and a granddaughter, Alice McGowan Cregan. Much loved and respected, he will be missed by many but none will miss him more than his family who were grateful to reap the reward his love, intelligence, kindness and honor.
Visitation is Thursday, May, 5th 4pm to 6pm at the Wm G. Miller & Son Funeral Home, 371 Hooker Avenue, Poughkeepsie, NY. A Mass of Christian Burial will be held at Holy Trinity Church, 775 Main Street, Poughkeepsie, NY at 10:30am on Friday, May 6th. The family will hold a private burial at a later date. In lieu of flowers, donations may be made to Astor Services for Children and Families or Hudson Valley Hospice. If you wish to send an online condolence please visit our website at www.wmgmillerfuneralhome.com
To plant a memorial tree in honor of James Joseph McGowan, please visit our Heartfelt Sympathies Store.