Phillip Shatz
IN MEMORIAM
(1926-2019)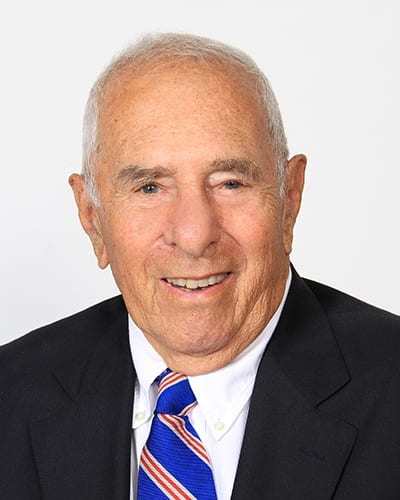 "MY BIGGEST SOURCE OF PRIDE IS HAVING BEEN PART OF A GROUP THAT BUILT A SMALL LAW FIRM INTO A PRETTY GOOD-SIZED FIRM THAT CONTINUES TO HAVE THE REPUTATION, THE ABILITY AND THE QUALITY OF LAWYERS TO PRODUCE CREATIVE AND INGENIOUS LAW."
Farmer, philanthropist, lawyer, banker, insurance broker, rock and ice climber, skier and patriarch. Avid Scrabbler, voracious reader, adventurous traveler, and shrewd real estate investor. Much loved husband, father, grandfather and great grandfather.
Partner at McCabe & Mack 1982-2018 where he was a leader and mentor to all. A self-described "country lawyer," his practice was tremendously varied ranging from responsibility for the firm's commercial litigation group which included construction disputes, real estate contracts, trust accountings, probate contests to all aspects of business formation, management and transactions. Several banks, lenders and borrowers were clients. He helped hundreds of people to get the most out of the law which was for him an art to be interpreted.
Born 1st September 1926, he was the youngest of three. His father Hyman Shatz arrived at Ellis Island in 1905. Hyman built The Shatz Painting Company into one of the largest painting companies in New York City in the 1930s. The construction of Rockefeller Center was a flagship project.
Phil grew up on a farm in Carmel, New York during The Great Depression, which taught him kindness and generosity for those in need. As a naturalist, farming was close to his heart. He kept bees, goats, and sheep, tapped maple trees, and brought back into production a 100-year-old apple orchard in LaGrange.
A veteran of WWII, Phil joined the Navy at age 16 and saw service in the Pacific theatre. He served as Gunners Mate primarily in minesweeping duties.
Graduated Syracuse University in 1948 and earned his LLB at Columbia University in 1954.
Achievements and Associations: Designed, built and managed Beekman Country Club from a bean farm acquired in the late 1950s. Phil personally laid out the course. One of his favourite stories was riding a bulldozer while telling his partner where to make the holes.
Bar admissions: New York Bar, 1954, US District Court, Southern District of New York, 1955, US Court of Appeals, 2nd Circuit, 1955, US Supreme Court, 1956.
Mahopac Volunteer Fire Department - 25 years of service; Founder and Trustee of Putnam Hospital Center; Chairman of Putnam County Red Cross; Director of Mid-Hudson Legal Services; Trustee of Syracuse University Research Corporation; President of Syracuse University's Real Estate Investment Subsidiary; Member of the Advisory Board of Marist College School of Business; Founded Sprout Creek Association to assist with regulation of development in the Town of La Grange.
Phillip is survived by his beloved wife Natalie Marshall, his son Phillip "PD" Shatz, daughter Sallie Shatz and grandchildren Alex and Ben. The Shatz Marshall family has always been considered one clan, with Phil thinking of his stepchildren as though they were his own, stepson Fred Marshall and stepdaughter Alison Marshall, grandchildren Karen and Janet Schirm, Kim and Alisa Marshall and great-grandchildren William and Joshua Kovacs.
Celebration of Life public gathering: Beekman Country Club, 2 PM Sunday Sept 8th.
Donations please to Hudson Valley Hospice.
Published in the Poughkeepsie Journal on June 27, 2019