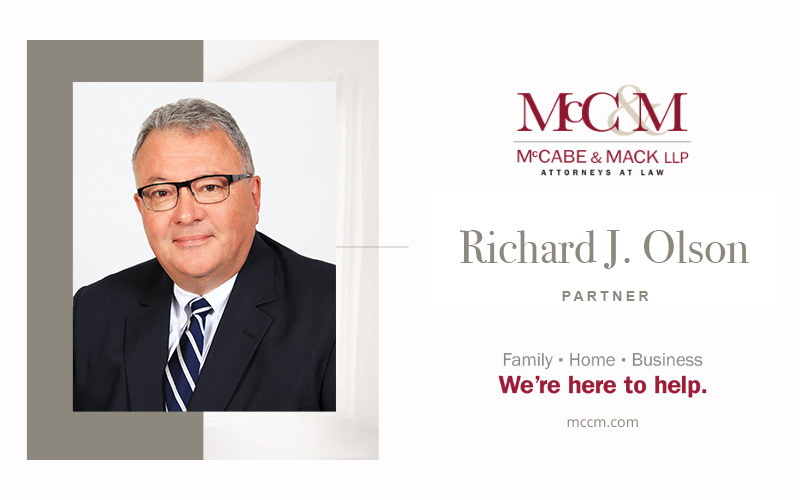 An Interview with Richard J. Olson, Partner, McCabe and Mack LLP
Administrative Professionals Week (which we refer to as Staff Appreciation Week) is celebrated in the last week of April, but our team at McCabe and Mack LLP is grateful for this group all year long.
Words are inadequate to express just how thankful we are for this hardworking, dedicated group, but one metaphor comes to mind which might give you an idea of how much they mean to us. Imagine a time you were in a theater watching a masterful performance. Although the spotlight may have been on a handful of leading characters, it was the entire crew behind the scenes who helped set the stage for success. They thought out every scene, managed every rehearsal, made sure everyone had what they needed, provided boundless support, and choreographed every single detail to make the production a smash hit.
At McCabe and Mack LLP, our entire staff are the ones who help all of us perform at our best. As Partner Richard J. Olson pointed out, "They handle all of the day-to-day operations – and often we are totally unaware of any challenges that have come up because they have been resolved by our team before impacting our work at all. Whether we have issues with our facility such as heating or air conditioning problems, a need to reconfigure complicated schedules because a lawyer has become ill and cannot come in, or mechanical issues with phone and computer systems, our staff make sure that things are taken care of so that we can take care of the legal needs of our clients. And on top of all of that, our staff takes care of payroll, taxes, insurance, bills, scheduling, reviewing resumes of prospective new employees – and the list just goes on and on and on!"
The explosion of technology in recent years has added exponentially to the scope of work that the staff had just a few years ago. Olson noted that their willingness to learn ever-changing systems and platforms and deal with technological challenges that arise is awe-inspiring.
"Think about Cyber Warfare and how that has become such an important consideration with our daily lives in the workplace. It is an elusive and complex issue, but our team remains committed to getting the training needed so that they can help us all identify potential spam, phishing emails, and threats. They consult with IT experts regularly and do everything possible to help correct any potential concerns. It is an extraordinary responsibility to manage an operating system, but they quietly and humbly make sure they are on top of things so that our firm can run smoothly," explained Olson.
He continued, "And then you throw in a global health crisis, which expanded their role in other ways as well. Not only did our staff have to figure out how to get everyone set up to work remotely in a way that kept all files secure, but they also had to develop and implement a strategy to run virtual meetings and depositions. On top of that, they had to develop a plan to mitigate risk for essential employees who had to continue coming into our office. They were unstoppable though – they figured out how to space people properly by completely redesigning the downstairs of our space, creating a conference room large enough to keep people six feet apart so we could continue to hold safe and socially distanced meetings and closings. I know that none of this was easy, but they collectively took on every challenge that revealed itself and did so with grace and courage every step of the way."
Olson noted that the attorneys at McCabe and Mack LLP could not have achieved all that they did over the Covid-19 crisis without the dedicated staff.
"I have such a deep appreciation for all that they do. Their work ethic, flexibility, and attention to detail are exceptional. They have taught us lessons about everything from being careful with our computers to embracing the opportunities that come with challenging times. Things have always run smoothly here because of them – but the pandemic put a full spotlight on the fact that they are center stage when it comes to our success."
When asked what he most wants to say to the staff, he said this: "Just a big thank you. It is because of all of you that we can confidently do our jobs. We are sincerely grateful to each and every one of you and hope you know how appreciated you are."
The last week of April is designated Administrative Professionals Week, which we refer to as Staff Appreciation Week at our firm; be sure to express your gratitude to the people in your circles who work as hard as our team does at McCabe and Mack LLP.