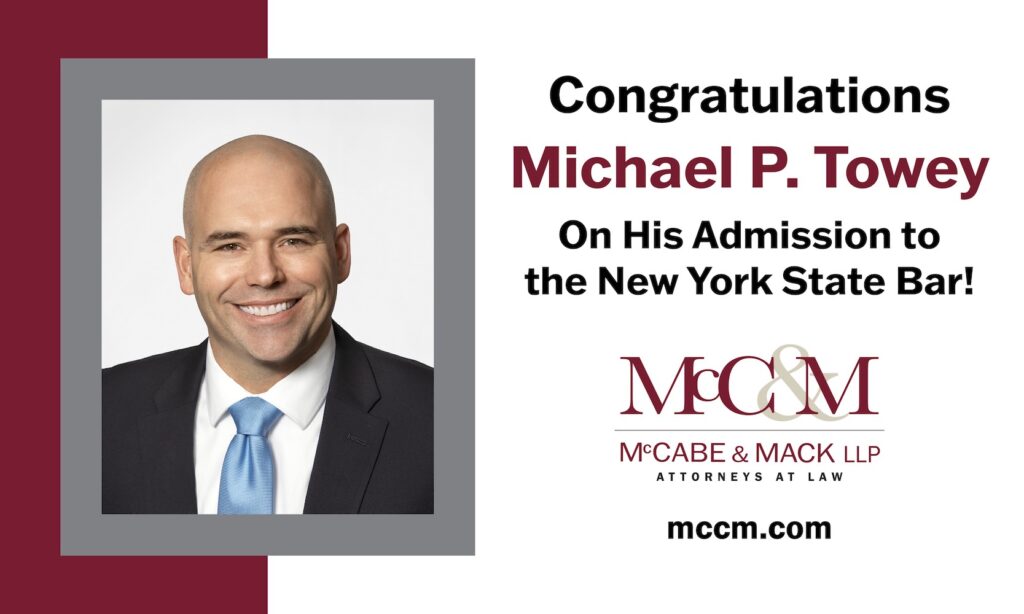 Poughkeepsie, New York……Partners of McCabe and Mack LLP, based in Poughkeepsie, New York, announced today that Michael P. Towey (resident of Millbrook, NY) has earned admission to the New York State Bar.
Towey, a graduate of Syracuse University College of Law, received a Juris Doctorate degree in 2022. Prior to attending law school, he earned a Bachelor of Arts degree in Economics-Philosophy from Columbia University School of General Studies.
A Veteran of the United States Army, Towey served as an Intelligence Analyst for the 302nd Information Operations Battalion at Fort Totten, NY (Reservist, 2014-2017), as well as a Company Operations Non-Commissioned Officer (2013-2014) and Fire Team Leader (2011-2012) while serving in the 1st Battalion, 23d Infantry Regiment at Joint Base Lewis-McChord in Washington State (2009-2014). Towey is the recipient of the Combat Infantryman Badge.
At McCabe and Mack LLP, Michael P. Towey focuses on estate planning, estate and trust administration, guardianships, elder law, and municipal land use.
Partner at McCabe and Mack LLP Kimberly Hunt Lee reflected: "Our firm is very fortunate to have Michael as part of the team. Clients and colleagues alike are grateful for the expertise, spirit of service, and meticulous attention to detail that he brings to his work every single day."
Learn more at mccm.com.